FLAIR FEST!
TALENT SHOW & FAMILY PICNIC

Art With Heart Studio is so excited to be launching a new annual event this year– The AWHS
Flair Fest – Talent Show & Family Picnic! This event is going to be a kid-centered, family experience that showcases talented youths within our community from right here in Haldimand & Norfolk. Flair Fest is all about celebrating what makes each of us so wonderful and special!

Flair Fest will include a revival of the Maureen Dodd Talent Show, but AWHS style! Open to kids from Kindergarten to grade 12, our talent show will see 40+ kids on stage at the park with lots of great prizes to be won.
This event will also feature a unique one-of-a-kind Youth Makers Market filled with local youth vendors, activities & crafts, lawn games, food, and more. This event is sure to be an incredible & fun experience for the whole family all day long!

WHEN:
Sunday, June 26th @ 10:00 am – 6:00 pm (Rain date of July 17th)
WHERE:
Powell Park in Port Dover – 250 Main St, Port Dover, ON N0A 1N0
EVENT SCHEDULE:
To be released this June!
Interested in getting on stage and letting your magnificent light shine? We would love to see what your special flair is, whether it's comedy, singing, playing an instrument, speed painting, or something unique and obscure! Auditions are now open to residents of both Norfolk and Haldimand Counties from Kindergarten to Grade 12! Click the button below to get the full details and submit your audition tape: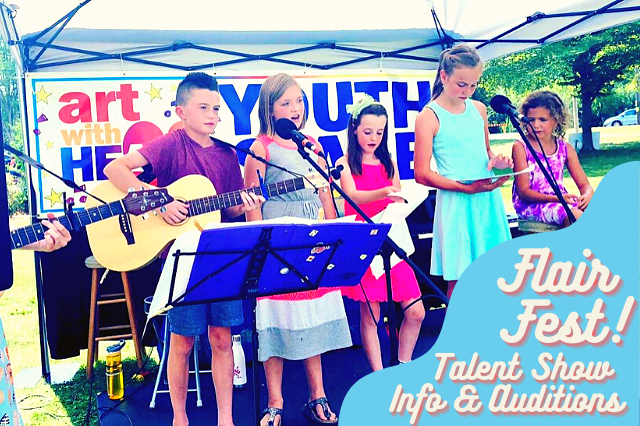 YOUTH MAKERS MARKET INFORMATION!
Do the words "crafty, local, youth" describe you? We want to feature your creations in our Youth Marker's Market! Click the button below to get the full details, fill out the application, and submit some photos of your work!
Check out these awesome local businesses who have stepped up to make this year's first annual Flair Fest possible! Thanks to their wonderful donations we are able to offer deliver a day of games, artsy fun, and music for our community, and have a plethora of prizes to give to local, youth performers!
Want to get your name attached to our community event for all?
Send an email to [email protected] to get in on the fun!