Hey, Nikki here! I'm about to tell you QUITE the story so sit back, relax. This one's a doozy.
Let's hop into our time machine: It is December 2019 and I'm writing our newest Drama Kidz play. We are still struggling to open our Simcoe studio after a slew of monumental setbacks and teaching classes out of churches and neighbouring stores/facilities but we are PRETTY sure we are close. Every spare moment I have in between writing this play is spent painting walls at the studio, or teaching one of my many classes.
So, in typical Nikki fashion, I decide to write about what is happening in my world. "Wouldn't it be fun to take the struggles we've had in opening AWH Studio in Simcoe and tell THAT story, but with kids opening a lemonade stand? Wait wait wait, how cool would it be if I made the main characters two best friends RICKI and LEEMAN, and they play me and Leanne?!" The way I saw it, I had another opportunity to take a fairly difficult experience and create something beautiful with it. Art imitating life.
So that's what I did. The creative process of writing this piece was fluid – it flowed out of me like it was always meant to exist. I heard the songs in my head as I wrote the lyrics and our composer Jess, took my snapchats with basic melodies and ideas and created masterpieces with them.
The cast of 35 kids took to the script and songs immediately; this was a story they wanted to tell. It was about chasing dreams, resilience, and never giving up. It was about conquering challenges with optimism and a sense of humour, and with a little help from your friends. We choreographed the dances, blocked the play, lines were memorized and our cast recording was completed.
The crew was ecstatic, heading into the final countdown before showtime. Leanne had gathered all the wood and materials to construct our main set piece. Costumes were on the forefront of our brains and props had been made. The theatre had been booked well in advance, posters handed out and tickets were selling well as usual.
We were 2 weeks before showtime, just about entirely ready.
This was March 12th, 2020.
And suddenly just like that, everything turned upside down and life began imitating art.
"Our story begins here, sunshine and daisies, Big dreams and maybes – The whole world at our feet! But settle in, take a seat because that's just when…Everything Went Wrong."

– lyrics from the Glass Half Full opening song
And everything really did. Never in all my years in theatre or our 7 seasons of Drama Kidz productions, had I ever been faced with a situation where "the Show Must Go On," did not and COULD not apply. Our cast, creative team and crew were left deflated; There was nothing we could do, the show had to be cancelled until further notice.
Then "a few weeks" in lockdown turned into months, COVID measures increased and "until further notice" became "we have NO idea when this will be possible." It was heartbreaking to sit by and watch helplessly.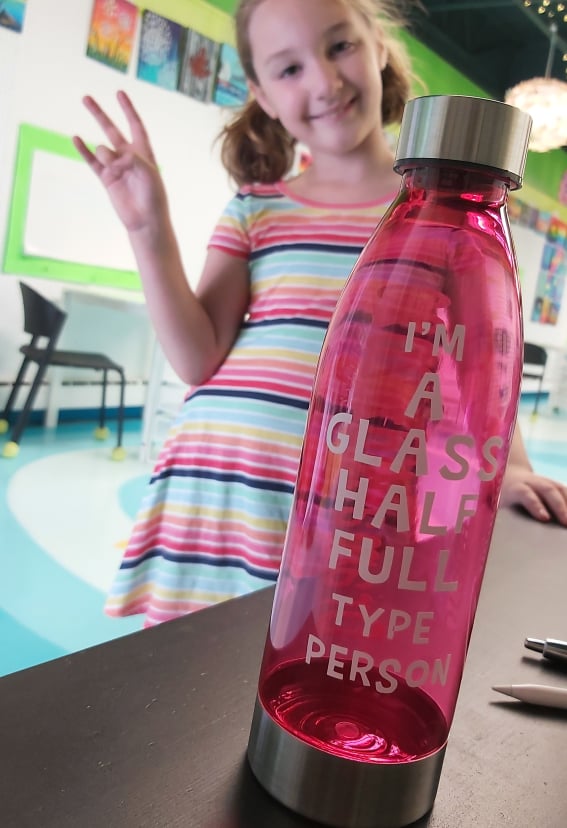 "You my friend have had a bad day, what is there for me to say? So I'll just sit right here next to you, 'cause it's all that I can really do. You don't have to fake a smile or wear your brave face. You don't have to talk or cry but I've got some kleenex just in case. I'm here and you can take the lead, right now it's whatever you need. What do you do when, you want to help a friend, What do you say when, the world has turned it's back on them, Maybe all I can do or say, is I'm right here and here I'll stay."

– Not Your Day lyrics, from Glass Half Full
So, we wrote personal notes and delivered "I'm a Glass Half Full Type Person" Drama Kidz waterbottles to every cast members doorstep, reminding them all how sorry we were that the show could not go on, and that "Glass Half Full" one day we'd be together again and that day would be EPIC.
Fast forward to this past spring of 2021; inspired by a ZOOM call, I had an idea. After pivoting our arts programming and studio a few dozen times throughout the pandemic, I had become used to thinking outside the box to find the solution. I messaged our creative team, contacted a former Drama Kidz student/staff member filmmaker Arthur Shantz (who was STOKED to be invited to work on this project!) and got to work on making the arrangements right away – I wasn't going to let one more day go by before I took action. By the time we were out of lockdown, the plans were in motion!
After a year and a half, and with many of our original cast members aging out of our program to do other things, we decided to move forward with FILMING A Glass Half Full as a table script read to be released online around September/ October 2021. Throughout the summer, we had a jam-packed evening schedule after summer camps; with each actor coming in for a personal 1-3 hr time slot to film their lines one by one, for us to edit it all together for the end product. We knew it wouldn't be as good as a real live theatre show, and our hearts ached for the day we could be together on stage again. But with the completion of this video project, we hoped to feel more at peace with a conclusion to what has been a WILD journey. For the actors, our crew and ourselves. I created THIS script specifically FOR these young actors, and they deserved the opportunity to perform it if they wanted to!
"They say when life gives you lemons, make lemonade, but life ain't about what you've gotten, it's what you've made. So when you feel like all your dreams are slippin' away, When life doesn't give you lemons make lemonade anyway"

(lyrics from the Glass Half Full finale song)
Our cast and their parents were ecstatic. They worked so hard and were only 2 weeks away from showtime when our original show had to be cancelled. Most of the cast reprised their roles, and for those who could not we invited Drama Kidz alumni to fill in.
With this production, we wanted to demonstrate how to be resilient and adapt in the face of adversity, and to never give up. And now, even though the production itself has changed ; the message is more clear than ever before.
So as we are busy busy busy in the editing room, we hope you STAY TUNED for this highly anticipated, long awaited project's release! Follow us on social media, sign up for the newsletter, join our NEW Drama Kidz Club or Drama Kidz Showtime programs. There are so many ways to get involved here at Art with Heart Studio and we CAN'T WAIT to begin our 8th season of Drama Kidz.
Life DIDN'T give us lemons, in the case of A Glass Half Full. But together, we made lemonade anyway. I am so proud to be part of this organization, and this show. Drama Kidz – we are BACK and we are showing the world what we are all about!
With "glass half full" optimism and a whole lot of love,
Nikki Campbell