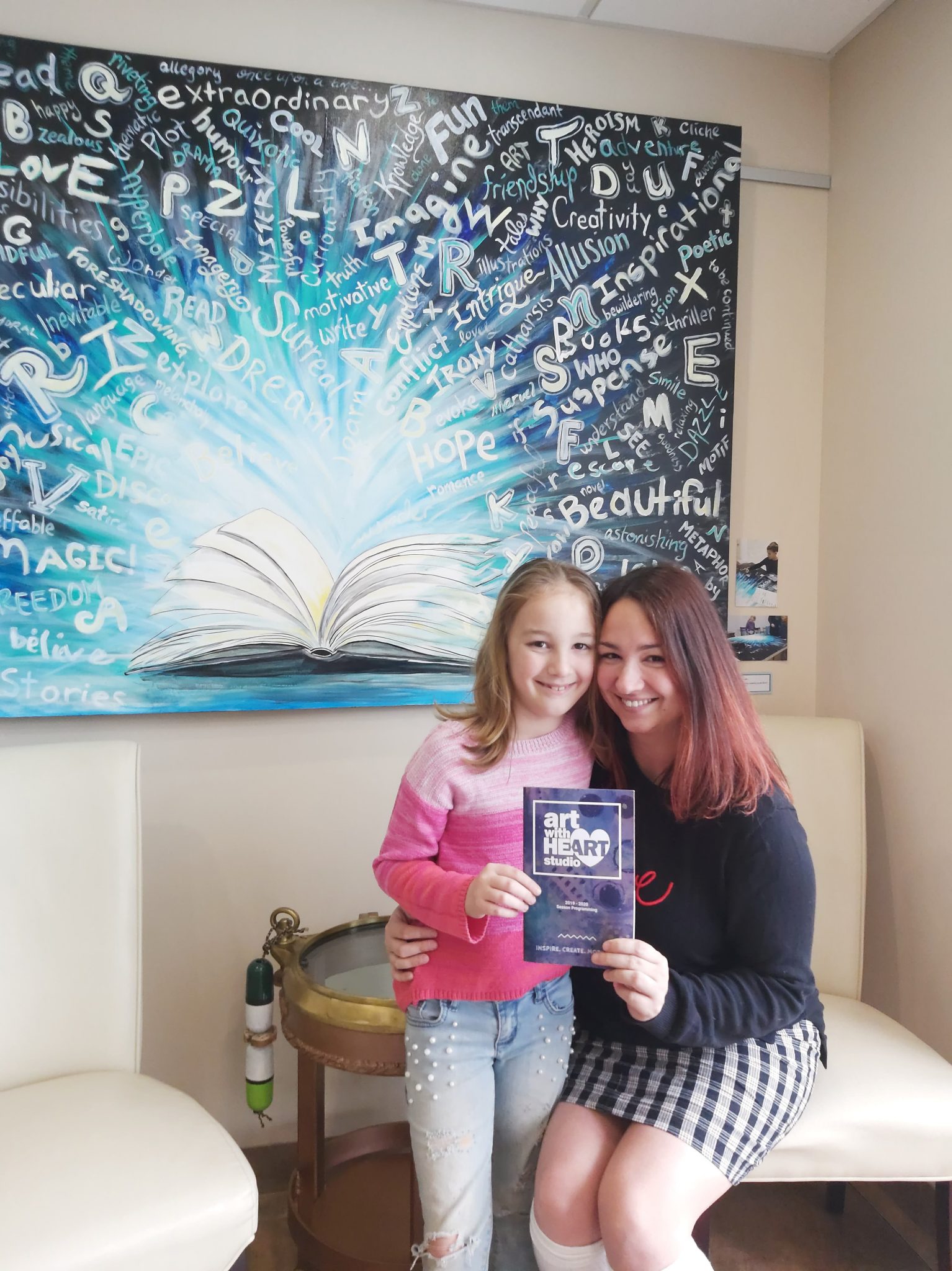 February 16, 2020, Port Dover ­ – The sudden closure of the Norfolk Arts Centre earlier this month was a shock to Norfolk County's arts community. The public art gallery, located at the Lynnwood National Historic Site in Simcoe, was a casualty in Norfolk County Council's efforts to cut municipal spending.
Caught in the midst of the closure was The Art of Literacy, an exhibition of multi-media artwork created over several months by young artists between the ages of four and 15 enrolled in the visual arts program at Art with Heart. The exhibition opened February 1, and was only on display for five days at the time of the NAC's closure.
"The exhibition was a labour of love by students and teachers alike," said Art with Heart's CEO and founder Nikki Campbell-Schram. "The only thing on my mind when I heard the NAC had closed was how disappointed the kids would be, after all that hard work and effort."
The exhibition is a reflection of the young artists' favourite books and the joy of reading and writing, and includes paintings, drawings, sculptures, and collages.
To Campbell-Schram's relief, a new home for the exhibition emerged in Port Dover a day later. The Art of Literacy is now on display at Gallery 23, located at 23 Market Street West. The gallery is home to a permanent collection of local and regional artwork, which will be put in storage temporarily to accommodate the youth exhibition. The building is also home to eight professional office suites and the twisted fish yoga studio.
"The staff at Art with Heart Studio, our students and their parents appreciate what 23 Market is doing to help support our visual arts program," Campbell-Schram said. "We are part of a thriving arts community in Norfolk County, and knowing that we have the support of so many people means a lot to us."
The Art of Literacy also includes nine reading chairs, hand-painted by Art with Heart students, which are available through a blind silent auction. Proceeds from the sale of the chairs go toward funding additional art programs.
A public opening reception for The Art of Literacy is scheduled from 2:00-4:00pm on Saturday, February 22 at Gallery 23. The exhibition is also open for public viewing from 9:00am – 5:00pm Monday to Friday. The opening is sponsored by Barber & Veri Marketing & Development, whose office is located at 23 Market Street.  The business has worked with Campbell-Schram since Art with Heart opened.
"Local arts and culture is more important now than ever before," said Adam Veri, project manager at Barber & Veri. "Norfolk is home to so many exceptional artists, musicians, performers, and creative professionals. As a community we need to support their creativity through investment, forming partnerships, and enjoying what they produce. We believe in what Nikki and her team are doing, and we're on-board with her and anyone else who makes an effort to include people in artistic pursuits, especially kids."
Art with Heart Studio is a not-for-profit arts education organization, located at 33 Norfolk Street North in Simcoe. Best known for its youth theatre programs, Art with Heart is also home to a thriving visual arts program, which includes classes in acrylic painting basics, mixed media, art journaling, drawing basics, and illustration. For more information on upcoming classes and registration visit artwithheartstudio.ca.