Register your child for free, creative and fun programming.
We have super duper exciting news here at Art with Heart Studio – and it involves new + FREE programming for youth ages 5-17 in Norfolk County and beyond. 
Art with Heart Studio is a safe, welcoming space for youth and we welcome participants from all walks of life!
Please welcome our Inclusivity Creativity program to the roster! A series of three, six-week art programs that focus on providing a supportive environment for personal expression through art, music and creative writing. We kicked off the program this month with the first session having started on January 16th.
The program treats inclusivity as more than passive acceptance of others, instead focusing on taking specific actions to welcome and uplift other people in the group. Participants will focus on developing brainstorming, problem-solving skills and teamwork while collaborating to complete projects. 
If you missed out on the first one, don't worry! We have two more incredible sessions coming up: Poetry & Palettes starting March 11th and Imagination Collaboration starting May 17.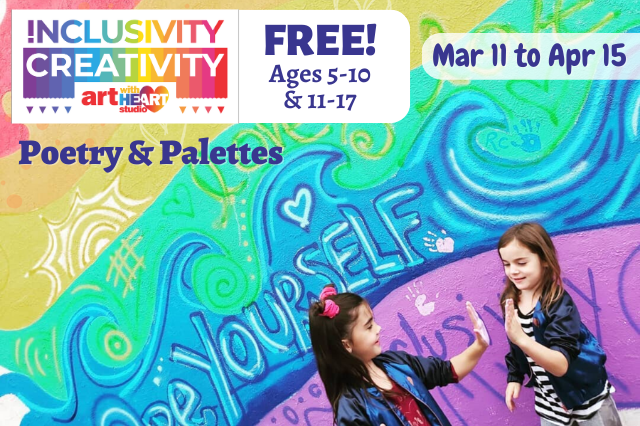 One of the most unique (and amazing!) things about this program is that we are putting artwork from all three sessions together to be a part of a special Pride month art exhibition in late June 2023.
Stay tuned for more details on that in an upcoming post this Spring!
This program would not be possible without the funding that we were fortunate enough to receive through the Resilient Communities Fund of the Ontario Trillium Foundation to create this opportunity for youth in Norfolk County and beyond. We would also like to thank Adam Veri for always taking the time to shine a light on our organization, and supporting us to the moon and back through grant writing, moral support and overall encouragement.
For more information or to register for a session visit artwithheartstudio.ca or call 226-567-5500.